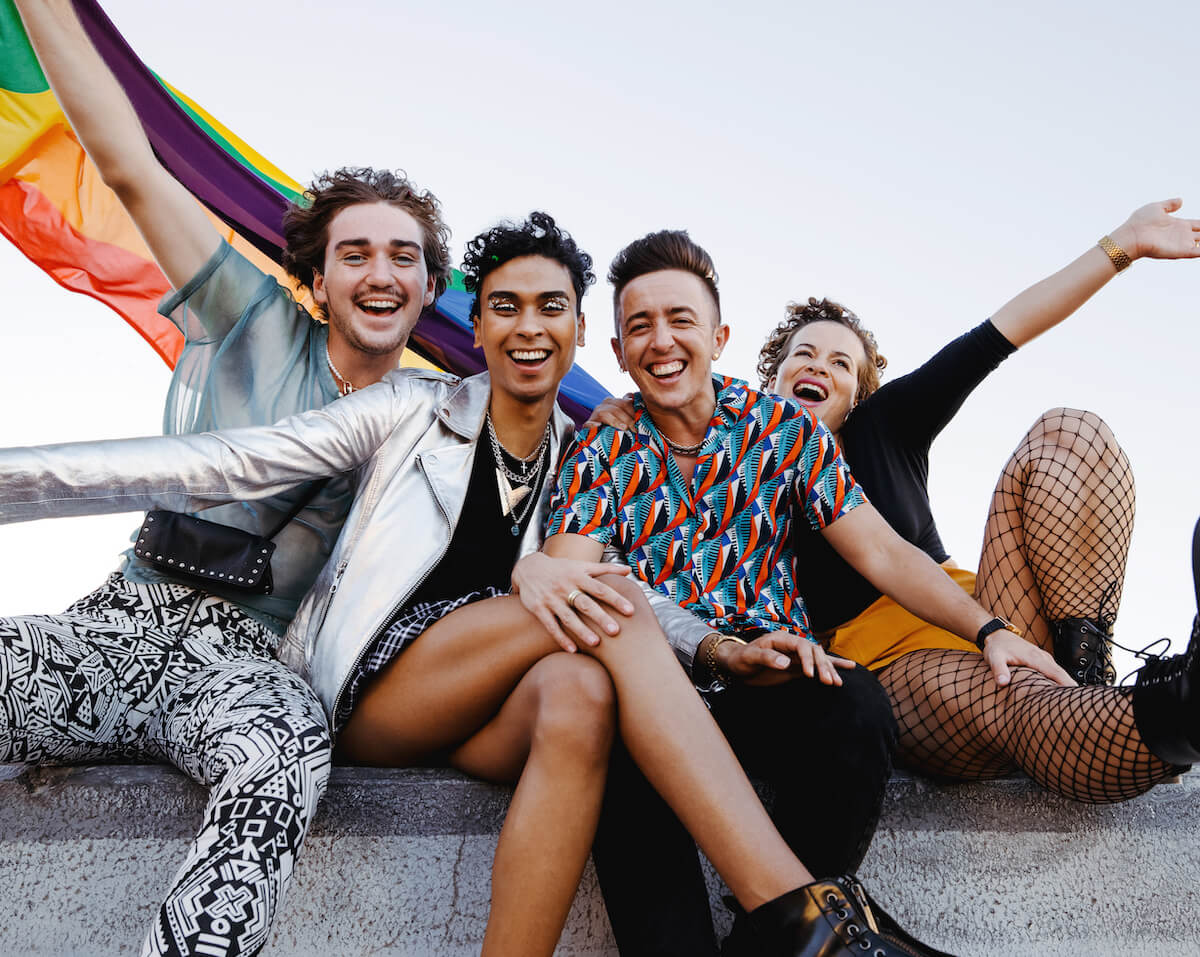 The international day against LGBTQIA+ discrimination isn't just for workplaces, schools, and organisations. Even if your office or school isn't hosting an IDAHOBIT event, it's easy to make an impact if you team up with your friends, family, or community.
1. Get Started with Friends
Hosting an IDAHOBIT activity with friends is a great way to raise awareness and vital funds to build a world free from LGBTQIA+ discrimination. Start by registering your intention to host an IDAHOBIT activity, and we'll send you our free digital toolkit to help you out.
2. Ideas to Go Rainbow with Friends
Usually the simplest ideas are the most effective, especially if this is your first time hosting an activity. Think about what your friends already love doing – then add some rainbow flare or a rainbow theme.
And remember, while IDAHOBIT is on May 17, you can host your activity anytime in the month of May.
These ideas have worked great for IDAHOBIT champions in the past:
Get Moving

Run a relay, join in a fun-run, or host a group workout challenge. Set a target, like a distance, or a number of push-ups, or even a number of workouts.

Karaoke Night

Host a karaoke night with pals – you could even add a digital fundraiser or gold coin for entry, and add a rainbow theme.

Share a Meal

Host a dinner party, a potluck, picnic, or even a weekend brunch moment – all you need to do is add a rainbow dress code, decorations, or a fundraiser.

Paint and Sip

Organise your own paint and sip activity (with a rainbow theme or fundraiser, of course), or attend one in your city.

Book Club

Make your May book club selection LGBTQIA+ themed – whether a graphic novel like Heartstopper, a classic like The Price of Salt, or a homegrown tale like Finding Nevo by Nevo Zisin.

Movie Screening

Screen a movie or TV show! We love If We're Being Honest with Laverne Cox (on Binge), and Disclosure or The Dreamlife of Georgie Stone (on Netflix), but you can show anything LGBTQIA+ related.
Event Tips
Not sure how to get your event off the ground? That's okay! We've pulled together tips from the experts to help you out.
3. Help Us Change the World
Fundraising
No matter which LGBTQIA+ organisation you're supporting on IDAHOBIT, no matter how much you end up raising, your fundraising efforts truly make a huge difference. It's also easier than you may think to set up a digital fundraiser.
Learn more about the ins and outs of fundraising, and the real impact you can have.
Create Visible LGBTQIA+ Awareness
Wearing the rainbow flag signals to others that you're someone who'll respect their LGBTQIA+ identity.
We've made it easy to include rainbows and LGBTQIA+ education as part of your IDAHOBIT activity by purchasing a Pride Pack. Best of all, 100% of net proceeds support our work creating LGBTQIA+ inclusion all year round.
4. Engage in Education
One of the most important ways to fight discrimination and create more allies is through education. There's a lot to understand about LGBTQIA+ inclusion, and IDAHOBIT is the perfect time to level up your knowledge!
Explore LGBTQIA+ Inclusion
Identity and Stats - If LGBTQIA+ identity and inclusion is new to you, you can explore these topics to learn more about the diversity of identities within the community.

People and Stories - Read the stories of those who get involved in IDAHOBIT and stand out against discrimination in their everyday lives.

LGBTQIA+ Allyship - Explore how you can turn your understanding of LGBTQIA+ identities into meaningful acts of allyship.
Join Us Online
No matter what you get up to, if you're with your friends, you can attend our LGBTQIA+ professional training online. Usually this training is only available to whole businesses or organisations, but that's changed for IDAHOBIT.
Join our Education Team for an introduction to LGBTQIA+ inclusion, identities, and how to be an effective ally.