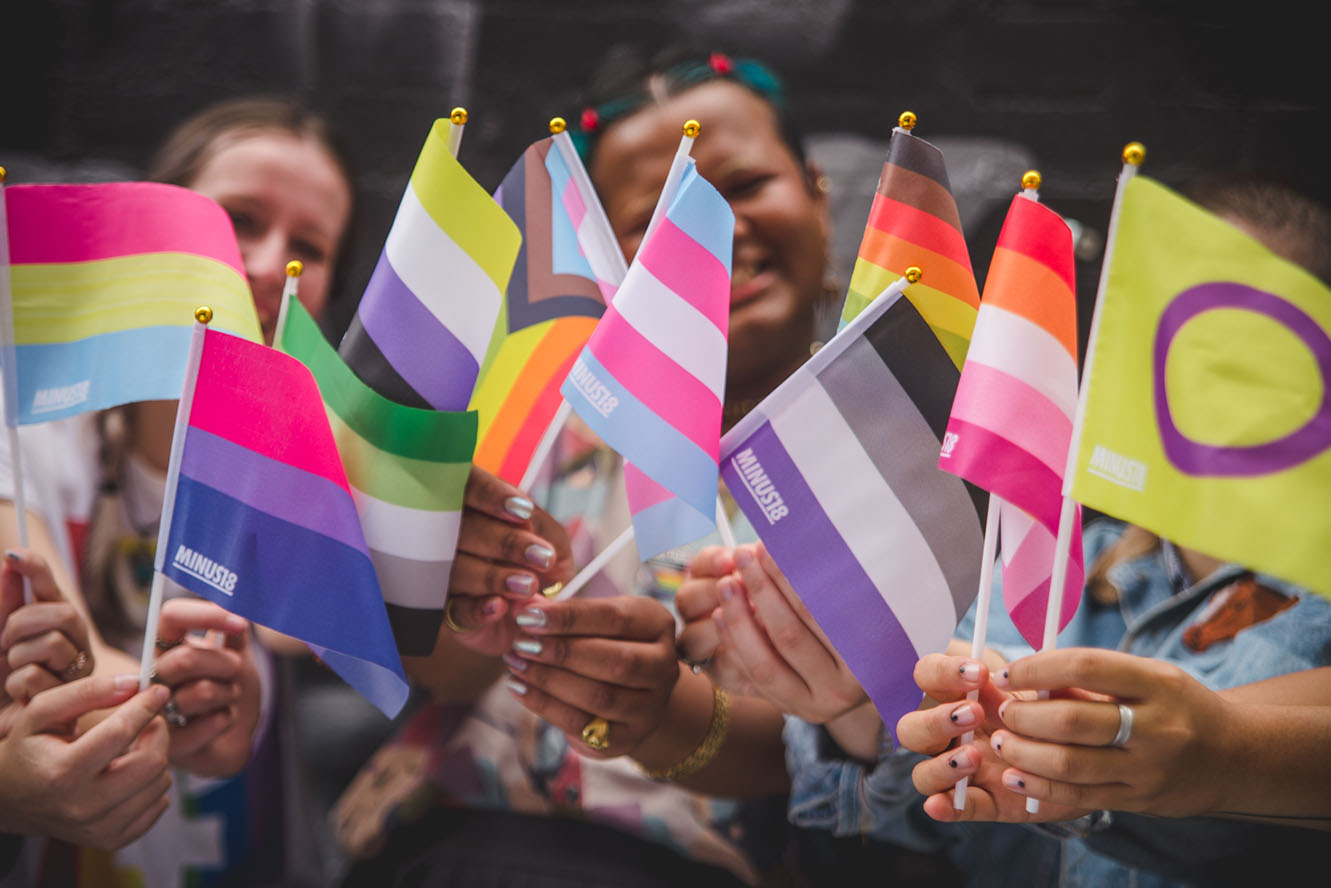 Which Pride Flag Should I Use?
The rainbow flag was created as a symbol of LGBTQIA+ pride and identity, and has since been used by millions of people around the world to signal safety, allyship and inclusion.
More recently, variations of the rainbow flag have become popular, and it can be difficult to know when to use each variation, or even which is the "correct" one to use. Here's a run down of the most popular flags and what they mean today.

Original Rainbow Pride Flag
You'll recognise this flag as the "original" rainbow pride flag. This rainbow flag serves to signal pride - or allyship - to represent the entire LGBTQIA+ community.  
History of the Flag

The original rainbow pride flag was designed in 1978 by Gilbert Baker, an openly gay artist and activist. The flag originally featured eight stripes, each of which represented something different. From top to bottom, the stripes represented hot pink (for sex), red (for life), orange (for healing), yellow (for sunlight), green (for nature), indigo (for art/harmony), and violet (for spirit). 

The hot pink and indigo stripes were soon removed to simplify the flag and make it easier to create and wear during pride rallies and marches.

When to Use this Flag

If you're unsure about which flag to use, the original rainbow flag works great. It's a design that is now so ubiquitous, it's shorthand for pride and allyship. It's also why we use it so frequently.
Recent Rainbow Pride Flags
More recently, alternative designs have been created to represent specific communities or intersectional identities.These are a great option if you want to signal your allyship to a specific group. They include: 

Philadelphia Pride Flag 
Otherwise known as the Rainbow POC (People of Colour) flag, the Philadelphia Pride Flag was designed by the city of Philadelphia and unveiled in 2017 at the city's pride celebration. The design features a black and brown stripe at the top to represent people of colour.
When to Use This Flag

Use this flag if you or your organisation shares a passion or strategic priority for the inclusion of people of colour.  

Progress Pride Flag
You might recognise the Progress Pride flag as having grown in popularity over the past few years. In 2018, the original rainbow flag was updated by graphic designer Daniel Quasar to reflect the diversity of the LGBTQIA+ community.
The Progress Pride Flag is an eight-stripe version of the rainbow pride flag, with five stripes in a chevron design added to the original rainbow – black and brown stripes to represent people of colour, and pink, blue and white stripes to represent the trans community.
When to Use This Flag

Use the Progress Pride flag if you or your group have a deep knowledge of LGBTQIA+ inclusion and allyship and if you are collectively passionate about visible inclusion for POC and trans identities. 
So, Which Flag Should You Use?
Well, that's up to you and your community. Pride flags are personal, and due to the long history of the original pride flag, many within the LGBTQIA+ community have personal experience and connection to the original version – and that's completely valid.
This can sometimes feel at odds with the more recent versions of the pride flag, which are frequently used by individuals from intersectional backgrounds and those who are newer to the pride movement, like young people and businesses. 
If you're unsure, the original rainbow pride flag works very well.
Whichever flag you do choose to use, ensure that it authentically aligns to your practice, and that you can demonstrate genuine inclusion for the communities that the flag represents. 
LGBTQIA+ Identity Flags 
Beyond the rainbow flag that represents the whole community, there are also pride flags that represent specific identities within the LGBTQIA+ community – like the lesbian flag, bisexual flags, or transgender flag.
If you're not sure about what these identities mean, you can learn more here. These flags can be used when talking to or about these specific identities, with some listed below: